Exhibition Hall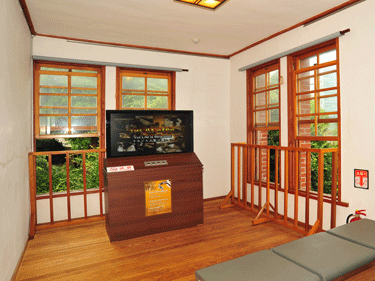 The one-story brick building currently used as an exhibition room was opened in Sept. 1987 to be used as a residence for prosecutors of Busan High Public Prosecutor Office. The building of renovated into a video room for the Memorial Hall of Provisional Capital in 2002 due to the relocation of the prosecution office. The building was reborn on Sept. 19, 2012 as an exhibition room to demonstrate the reputation and history of Busan, which overcame the national crisis as the Provisional Capital during the Korean War.
The exhibition room is designed with various relics, reproduced models, panels, and videos and is composed of two themes: (War and Life) and (Provisional Capital Busan, the History of 1,000 Days.
The video (War and Life) features the progress of the Korea War which led to an international war and the various daily life of Busan, the refugee capital. Objects used in the War, shacks of the time, refugee schools, street stalls at the Gukje Market, Wheat Noodle House, and Mildawon Cafe were reproduction in actual models for display to ensure visitors experience a vivid rendezvous with the lifestyle of refugees. Kiosks are installed between models to provide tangible presence of materials through related videos featured.
(Provisional Capital Busan, the History of 1,000 Days) focuses on main political events and wartime administration, economic changes of Busan during the Provisional Capital period and features various related relics. Some of the exhibits are genuine pieces allowing visitors to experience politics, administration, and the economic reality of the time at a glance, such as the Truce Agreement and a memorandum of transfer of the nationals forces of the President, the government budget in 1951, commercial and industrial maps, soju of Daesun Distilling Co., and transparent cream and brushes of Lucky Chemistry (now LG Chemical).
The venue also provides information through a Kiosk and large maps presenting the main figures of politics, economics, and cultural industry, as well as images of the general public, a variety of newspaper articles, main government institutes in Busan in 1950, and change of Busan after returning the capital.
Outdoor Garden
The garden features many trees and flowers as well as a small pond and a beautiful trail. The late president Rhee Syngman enjoyed meditation and exercise here, as well as performances, meals, communication, and commemorative photographs with visitors. During the Korean War, there were two large shelters - the actual site had disappeared - at the west side of the garden according to photographic records.