Dongyang-Cheoksik Co., Ltd.
The Dongyang-Cheoksik Co., Ltd. is a company which was established to dominate the economy of Joseon peninsula in 1908. This company was established to get a steady rice supply from Joseon and to save Japanese farmers from falling apart. For these purpose they actively pushed ahead farm operation policy and Japanese immigration.
The company expanded its' investment field into banking and industrial banking after 1917. On the other hand they expanded the business area into Manchu and South-East Asia. However, the main income source was a farm rent from tenant farmer in Joseon. The tenant farmers, who were not even guaranteed a minimum life expenses, fought against the company with a farm tenancy dispute.
Relations with America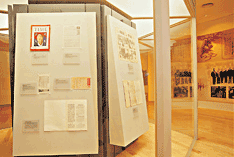 Korea and America initiated official relations with Joseon-America Treaty of Commerce and Navigation.
However the diplomatic relations were stopped due to Eulsa Treaty with Japan in 1905. The two nations, which met as a victorious country and colony of a defeated nation of 2nd world war, became a blood alliance through military government and Korean War, and the history of Korean –American blood alliance began in earnest. America influenced in many ways on Korea's reconstruction and revival through entering into a Korean war and military, economic aid. However after 1980 the desire for democratization in Korea soared like flame and wanted to reset the relationship with America. With the request by the citizens of Busan, America's culture center was returned. Therefore it was about time to reset the new cooperative relationship of 21st century with America now.