A space to connect past and present cities, aiming to reproduce memories of residents who left their hometown behind due to new town development in Jeonggwan. The sceneries and history of the old villages in Jeonggwan are introduced to immigrants of the new town to promote the old atmosphere.
Education of Jeonggwan
Just as the old saying states, education is a big plan that determines a nation's future for 100 years. Ourancestors placed great importance on education, accordingly. Gijang Hyanggo remains in Gijang town, and in Jeonggwan where there are famous private educational institutions, Yongsanjae, Sohodae, and Oakjakgok similar to memorial halls of Jeonggwan. Modern education began in the Gijang region with implementation of education policy by Japan for colonial control through the education Law of Joseon.
Jeonggwan's honorary Figure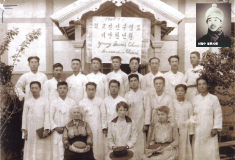 When Korean was invaded by the Japanese, citizens prepared to die for their country emerged nationwide. In the wake of the Japanese invasions of Korea in 1592, people with strong spirit from Jeonggwan fought against the enemies as a faithful army, and initiated the Independence Movement in the Gijang region during the forced ruling period.