Cultural Experience Center

(Hands-on Experience of Rubbing of Stone Inscription and Traditional Costumes)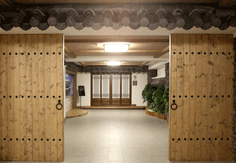 The ground floor of the 1st exhibition hall is a Culture Experience Center. You could experience various cultural histories through printing a rubbed copy, putting on the traditional wedding and court dress, tea ceremony.
Opening Hours: 10:00~17:00
Experience of Printing a rubbed copy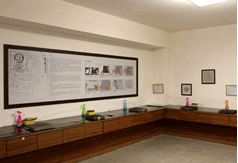 You may participate in this program only after you have purchased ink, Chinese drawing paper, cotton wool stick, etc. from the souvenir corner. These are necessary items in this program.
※ Necessary things for this program: 2,000won(They are available in the museum shop in Busan Exhibition Hall)
Hands-on Experience of Rubbing of Stone Inscription and Traditional Costumes
You may experience putting on the clothes like Gonryongpo, Ikseongwan, Hwalot, Wosam, etc. As it may be difficult to experience it when there are too many applicants, you may receive better service with an advance reservation.
※ Operation Hours: 10 am - 5 pm (Admission: Until 4:30 pm)
[Notice]
1) In order to serve as many visitors as possible, we are strictly limited the numbers of the participants for the clothing experience. There are also limited numbers in group visiting(only two members of the group can participate the experience)

If your members want to try the clothes more, please wait until other participants who book the experience finishes their turn. Only two participants can try the clothes at a time.
Time for experience : 30mins(per team)

2) The clothing experience is only permitted to the adult.
3) There are ten minutes changing time between each experience.
[Hands-on Experience of Rubbing of Stone Inscription and Traditional Costumes]
1) Busan Culture and Tourism commentators are available at the site
2) Operation Hours: 10 am - 5 pm (Admission: Until 4:30 pm)
Experience of Tea Ceremony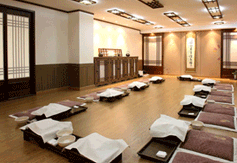 This is a corner where you may have a first-hand experience of tea ceremony in the presence of an instructor for tea ceremony.
This program is available 4 times a day(10:30, 13:30, 15:00, 16:30) only to those who have made reservation in advance through the homepage of Busan Museum.
Experience of the Tea Ceremony for the Foreigners
1) For the Tea Ceremony, you must have certificate of alien registration or residential passport in order to register the Busan Metropolitan Homepage System. With these available documents, you can process to log in the system to the homepage of Busan Metropolitan Government and then book the Tea Ceremony of Busan Museum.
2) For the general Tourists : Tea ceremony is only available with on-site reservation unless the internet reservation is fully booked on the day.
Also the phone reservation is not available.