Welcome! Bokcheon Museum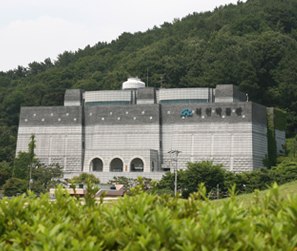 Our museum opened on October 5, 1996 to introduce to the spectators the superiority and importance of our traditional cultures and show them the aspect of Gaya cultures in ancient Busan area. For this purpose, many kinds of remains are exhibited in the museum, which have been excavated from the Bokcheondong Ancient Tombs, Historical Relics No. 273.
In several occasions excavation researches uncovered more than 200 tombs which have been confirmed, including Deotneol Tomb (Wooden Coffin Tomb), Pit-type Stone Deotneol Tomb (Pit-type Stone Coffin Tomb), Front-open-type Stone Room Tomb (Hwanggu-type Stone Room Tomb), Dokneol Tomb (Jar Coffin Tomb), etc. Form those tombs, more than 12,000 pieces of relics were excavated, including various forms of Gaya earthenware, iron weapons, armors, helmets, branch bells, gilt-bronze crown, necklaces, etc.
Our museum made it possible for the visitors to easily understand Gaya Cultures both through the exhibition of those relics, which had been arranged and restored, in two(2) large exhibition room and by preparing an outdoor exhibition place inside the tombs, showing the inside of the tomb at the time of excavation. Many of the remains and tombs that have been excavated from the Bokcheondong Ancient Tombs provides us not only with the information to solve the mystery of Gaya still remaining as a unknown kingdom but also the materials to investigate and reveal the origin of the ancient cultures of neighboring Japan.
Therefore, our museum is going to investigate and reveal the truth of the history and cultures of ancient Busan and further the history of Gaya through constant studies and researches of the Bokcheondong Ancient Tombs. On the other hand, we are going to play a role as a history education place, where the result of these studies can be shared by all of the citizens. In addition to this, we will exert our utmost efforts to be an open museum that comes closer to the citizens both by preserving our traditional cultures that are being forgotten and are disappearing through the museum education service, etc.
History
1969 ~ Jun.1998

6 Scheduled and 4 emergency research of the Bokcheondong Ancient Tombs.

Oct.1980 ~ Feb.1981

Advanced excavation research to confirm the cultural properties for the purpose of development of housing site.

Oct. 1981

Designated the Bokcheondong Ancient Tombs as Historical Relics No. 273

1982 ~ 1992

Purchased the site and compensated for underground installations.

Sep. 1992

Approved by Cultural Heritage Administration Office for the basic plan to purify the Bokcheondong Ancient Tombs.

Dec. 1992 ~ Jul. 1996

Construction of museum building and purification of Bokcheondong Ancient Tombs

Jul. 26, 1996

Announced the regulations about city office organization (Installation of Bokcheon Museum

Oct. 5, 1996

Opened the Bokcheon Museum

May 1998

Performed the excavation research for the west side of the Ancient Tomb Park

Mar. 2000

Completed the project to purify the west side of the Ancient Tomb Park

Jun. 2002

Performed a trial digging for the east side of the Ancient Tomb Park

Jul. 2006 ~ Oct. 2006

Performed the excavation research for the east side of the Ancient

Feb. 2008 ~ Mar. 2008

Performed an emergency research for the east side of the Ancient